Med beslutet att skjuta fram invasionen en månad från maj till juni och bland annat lägga till två nya anfallsstränder hade de allierade nu det båt- och fartygstonnage som behövdes. De hade även de trupper som behövdes, på plats eller snart på plats i Storbritannien. Därmed började dagarna under våren 1944 handla om tre saker; planering, träning och logistik.
Sedan de första amerikanska trupperna anlänt 1942 hade de och britterna tvingats kompromissa om såväl utrymme som sättet att leva i vardagen. För de unga jänkarna, där en förkrossande majoritet aldrig någonsin varit utomlands eller kanske inte ens utanför sin egen delstat, skulle livet i ett krigsdrabbat Storbritannien komma som en chock.
Vana hemifrån med Coca-cola, glass, tuggummi, cigaretter och nylonstrumpor fylldes vardagen med brysselkål, gröna ärter, varm öl, yllekläder, bobby-poliser och brittiska pund. Stora ansträngningar gjordes för att acklimatisera jänkarna genom information och hårda regelverk men också genom att engelska familjer bjöd in soldater till deras hem för att lära känna varandra bättre.
Alla amerikaner i uniform fick dessutom när de ankom Storbritannien en liten bok, eller mer korrekt en pamflett eller ett häfte som hette "Instructions for American servicemen in Britain". I dagens kommunikativa värld känns texten på gränsen till löjlig men från 1942 gjorde den nytta då det var få amerikaner som visste om hur britter var och vilka sociala normer de levde efter.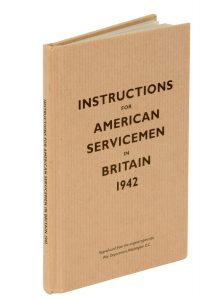 Än idag lever ett spritt uttryck kvar om att engelsmännen ansåg att de amerikanska soldaterna var "Oversexed, Overpaid, and Over Here". Till svar menade GI's att engelsmännen var "undersexed, underpaid and under Eisenhower". Lite sanning låg i detta då en amerikansk menig tjänade dubbelt så mycket som sin brittiska motsvarighet. I ett land där många brittiska unga män var i uniform på annan plats än hemmavid, blev naturligtvis de amerikanska ersättarna med en mer chosefri attityd mycket populära. Både som tillfälliga pojkvänner och som äkta makar. 70 000 engelska kvinnor gifte sig under andra världskriget med amerikaner.
På tal om uttrycket för den menige amerikanske soldaten, GI. Ett slanguttryck, som alla i den amerikanska armén använde, om de amerikanska soldaterna särskilt de meniga. Det finns några olika förklaringar om vad GI betydde men den vanligaste är "government issue" (ungefär "regeringens utrustning"). Britternas slangord för deras egna soldater var "Tommies", ett uttryck som härstammat från 1800-talet och var vida spritt under båda världskrigen.
De tyska soldaterna kallades för "Jerries" av amerikanerna och britterna även om de senare i vissa fall använde begrepp som "Huns" som de ärvt från första världskriget och "Heinie", kort för "Heinrich", ett typiskt tyskt förnamn.
När vi ändå är inne på ämnet passar jag på att kika snabbt på några andra militära slanguttryck som härstammar från andra världskriget. Precis som överallt annars i den militära lingvistiken handlar det om akronymer, alltså där de första bokstäverna i orden bilder ett nytt ord.
Det mest kända och troligen mest spridda slangordet för att något är dåligt men det samtidigt är ett normalt läge är SNAFU, "situation normal: all fucked up". Glöm inte att begreppet fucked ska i de här fallen ses som ett svärord snarare än i en sexuell kontext.
Ett annat och en smula värre uttryck är FUBAR. Har du sett filmen "Rädda menige Ryan" så minns du säkert att uttrycket var ett genomgående tema i samtalen soldaterna emellan i den lilla Rangergruppen. FUBAR var akronymen för uttrycket: "Fucked up beyond all recognition", alltså ett kraftuttryck att situationen var rejält åt helvete.
Ett problem som uppstod var att USA tog med sig en rasism som engelsmännen i grunden inte hade. Den amerikanska försvarsmakten var segregerad och när 100 000 svarta soldater kom till ett land med cirka 7 000 färgade britter, men desto fler från exempelvis Indien, blev det problem. Många vita amerikaner reagerade när deras färgade landsmän umgicks med brittiska kvinnor, något som de brittiska soldaterna inte reagerade på samma sätt.
De ledande amerikanska befälen, inklusive Eisenhower, var emot segregationen. Mer av praktiska skäl än principiella. De ansågs sig dock inte ha tid eller möjlighet att göra annat än att försöka hantera problemet men både Patton och Eisenhower skriver på varsitt håll att det egentligen inte finns någon anledning att ha en segregerad armé.
Under våren 1944 anlände ungefär 150 000 amerikanska soldater i månaden som alla skulle bo någonstans och naturligtvis få utrustning, beväpning, tyngre vapen, fordon och annat som behövdes för att kunna föra krig.
I april 1944 hade den amerikanska underhållstjänsten Services of Supply (SOS) staplat närmare 1 500 miljoner ton material i Storbritannien. Eisenhower beskrev i sin bok "Korståg i Europa";
"Vid tiden för invasionen var Storbritannien som en enda gigantisk flygbas, verkstad, förråd och mobiliseringsläger. Det sades skämtsamt att det bara var de många spärrballongerna som hindrade ön att sjunka."
Militärer, särskilt dem med erfarenhet av strid, intygar att det är underhållet som avgör krigsutgången. Det finns i det närmaste otaliga exempel på när starkare arméer förlorat mot svagare just på grund av brist på underhåll.
Det är dessutom mycket som ska fungera för att armén ska kunna genomföra sina uppgifter. Det räcker inte med vapen, ammunition och mat. Soldaterna behöver färskt vatten att dricka, vatten att tvätta sig i för att minska risken för sjukdomar, möjligheten att få och skicka brev till anhöriga. Det behövs rengöringsmedel för gevären och likaså vapenfett efter rengöringen. Nya larvband till stridsvagnarna för att inte tala om de oerhörda mängder bensin och diesel som behövdes för att driva dem såväl som lastbilar och andra fordon.
Operation Bolero var kodordet för denna uppbyggnad av troligen världshistoriens största militärbas. Det fanns dagarna före invasionen inte en väg och få fält i södra England som inte var fullpackat av fordon och reservmaterial.
Den 6 juni 1944 bestod den styrka Eisenhower hade till sitt förfogande av 2 876 000 soldater, sjömän och officerare. För markoperationerna fanns det 39 divisioner varav amerikanerna bidrog med 20, britterna 14, kanadensarna 3 och Frankrike och Polen varsin. Av de 39 var 12 pansardivisioner och 3 luftburna.
Utöver de trupper som fanns i Storbritannien befann sig ungefär ytterligare 40 divisioner i USA som skulle transporteras till England efter det att trupperna där skjutsats över kanalen eller köras direkt till Frankrike beroende på den logistiska situationen efter d-dagen. Ytterligare tio divisioner väntade runt omkring i Medelhavet på att den uppskjutna invasionen av Sydfrankrike skulle genomföras, vilket skulle ske den 15 augusti.
Under våren intensifierades träningen. I kompani- och bataljonsövningar drillades divisionerna, kårerna och de olika vapenslagen att samordna sina insatser. Det var inte bara arméerna som tränade utan även flottan och de allt större flygvapnen behövde träna i de stora formationer som skulle krävas under d-dagen.
I grevskapet Devon, mitt emellan Torquay och Plymouth, ligger den lilla byn Slapton som nämndes redan i Domedagsboken, den folkbokföring William Erövraren lät göra 1086. Mer intressant för denna poddserie är att den brittiska regeringen under slutet av 1943 byggde upp en omfattande träningsanläggning då stranden, Slapton Sands, i många drag påminde om de kommande anfallsstränderna och då särskilt Utahstranden med en smal strandremsa och en sjö precis bakom denna. De 3 000 boende i Slapton evakuerades av hemlighets- och säkerhetsskäl.
Här byggdes kopior av de tyska försvarsställningarna och fann underrättelsetjänsten några ändringar på de "riktiga" stränderna gjordes samma ändringar direkt på den "falska". Här fanns bunkrar, tjeckiska igelkottar, belgiska grindar och taggtråd i massor. Här drillades stormtrupperna att på olika sätt och i olika scenarier rensa bland hindren, krypa under och igenom taggtråden och desarmera minfälten. Efter övningarna byggde ingenjörstrupperna upp strandförsvaret igen för nästa övning. Många av de foton som sägs komma från d-dagen är i verkligheten tagna under övningarna vid Slapton Sands.
Medan stabspersonalen på olika nivåer planerade för den kommande invasionen utfördes allt fler komplicerade samövningar av de stridande enheterna. Övningarna blev inte bara större utan också allt mer realistiska. Man använde sig av skarpladdade vapen under många av dessa övningar, från kulsprutor till artilleripjäser, allt för att få de stridsovana trupperna att vänja sig vid stridslarmet.
Den 22 april 1944 inleddes operation Tiger, en av de största övningarna vid Slapton Sands och vattnen däromkring. Under de första dagarna tränade flottan och kustbevakningen med att samordna och transporterna från uppsamlingsområden till vattnen utanför Slapton. På kvällen den 26:e togs så trupperna ombord på de olika båtarna och skeppen som deltog i övningen. Fartygen gick sedan ut i engelska kanalen innan de vände inåt land för att simulera landstigningen.
På order från Eisenhower inkluderades skarpa artilleriskjutningar i de sista övningarna inför d-dagen. Så denna dag skulle landstigningarna föregås av en artilleriattack av bombstyrka U, samma som senare ansvarade för bombningen av Utahstranden.
Då flera fartyg var försenade till övningen sköt den ansvarige amiralen för övningen, Don P. Moon, upp starttidpunkten, klockan K, en timme till 08.30. Som planerat inleddes då en omfattande beskjutning av övningsstränderna och dess försvar.
Tyvärr hade ordern om att skjuta upp starten en timme inte nått alla landstigningsfartyg. Den andra vågen av fartyg hamnade därför mitt i fartygsartilleriets granater och många sårades och dödades av vådabeskjutningen. Än idag är siffrorna över antalet sårade och döda mycket osäkra. Allt gjordes för att hindra informationen för att komma ut.
Men olyckorna var inte över. Tyskarna hade noterat att något var i farten och skickade natten mot den 28 april ut nio motortorpedbåtar, de tidigare nämnda Schnellbåtarna, från Cherbourg. De lyckades spåra upp konvoj T4 som transporterade 1:a specialingenjörsbrigaden i åtta stycken LSTs, Landing Ship Tanks, eskorterade av två örlogsfartyg varav ett av dem, en jagare, krockade med en LST och avvek för reparationer. Konvojen färdades vidare i en rak konvojlinje med korvetten HMS Azalea längst fram.
För de mycket snabba och svårupptäckbara torpedbåtarna var konvojen upplagd som på en skjutbana eller som amerikanerna kallar det, a turkey shoot. I anfallet sänktes två LST och ytterligare två skadades svårt, ett av dem troligen av vådabeskjutning av egna fartyg. 749 soldater och sjömän dödades, många av dem frös ihjäl i det kalla kanalvattnet.
Ett stort problem var att tio officerare som dödats hade så kallat BIGOT-klartecken. De hade alltså information om vitala delar av invasionen. Under en tid var nervositeten mycket stor hos SHAEF att de tyska båtarna lyckats plocka upp några av dessa som nu kanske satt i ett tyskt fängelse och berättade vad de visste. Efter bland annat dykningar på vraken kunde de dock konstatera att samtliga försvunna verkligen var döda.
Olyckorna under operation Tiger försvann snabbt ur medvetandet då arbetet med invasionen snart åter tog över intresset. Eisenhower publicerade i augusti 1944 en rapport över sårade och döda under d-dagen. Då inkluderades de döda från april. Inte förrän på 80-talet kom sanningen upp i dagen.
Så den 15 maj 1944 genomfördes en toppkonferens i S:t Pauls skola med den brittiska kungen, drottningen och Winston Churchill närvarande. Över 150 generaler och amiraler var på plats och det fanns givetvis en viss nervositet över att om tyskarna mot förmodat skulle få ner en flygbomb där och då skulle effekten bli katastrofal.
Under ledning av Montgomery redovisades invasionsplanen i detalj. Den inledande delen kallades för Operation Neptun och var en del av den övergripande operation Overlord. I och med detta möte fastställdes också hur de sista veckorna inför d-dagen skulle hanteras med att trupperna flyttades närmare de hamnar där deras landstignings- och transportfartyg låg ankrade.
Därmed började också övningarna avslutas och trupperna fick successivt nya uniformer, nya vapen som behövde skjutas in och vetskap om sina uppgifter ombord på landstigningsbåtarna.
Infanteriet hade övats i att strida i grupper, plutoner och kompanier men stormtruppernas enheter skulle se dessa splittras under själva attacken mot stränderna. Av erfarenhet visste man att det skulle bli svårt att landsätta plutoner och kompanier samlat och därför var varje båt tvunget att ha med sig en mängd olika sorters vapen. Avsikten var att varje båtgrupp skulle strida gemensamt fram till dess att de på anvisade uppsamlingsplatser kunde omorganiseras till de ursprungliga stridsenheterna.
Utöver stormsoldaterna hade landstigningsbåten en besättning om tre sjömän utöver befälhavaren.
Båtarna var mycket grunda vilket gjorde dem samtidigt känsliga för vågor och strömmar. Golvet blev snart väldigt halt och på amerikanarnas LCVP fanns inga sittplatser vilket det oftast fanns på britternas motsvarighet LCA. I nästa avsnitt, 7: anfallsplanen, kommer jag att gå igenom de vanligaste sorterna av landstigningsbåtar.
Längst fram på båten fanns en ramp som snabbt kunde fällas så att de 31 soldaterna, fyra-fem i bredd kunde rusa i land. Båtgruppbefälet stod längst fram och sergeanten längst bak, den senare med ansvaret att pressa alla framför honom av båten innan det var hans tur. Denna ordning skulle skapa mycket stora problem på Omahastranden.
När båtarna skrapade i strandbottnen och rampen fälldes kunde de tyska kulspruteskyttarna skjuta rakt in i hela gruppen soldater ombord. I inledningsscenerna i "Rädda menige Ryan" visas detta tydligt. Utöver problemet med att några salvor av de mycket potenta kulsprutorna M-34 och M-42 därmed kunde oskadliggöra en hel båtlast på några salvor var det oftast gruppchefen, officeraren, som träffades först då han stod längst fram.
I den extrema och kollektiva förvirring som skedde i inledningen av anfallet mot stränderna skulle de överlevande från de första vågorna i för många fall vara utan sina grupp- och plutonchefer. Det fanns kort sagt för få som hade befälet och kunde få soldaterna att ta sig framåt.
De högsta generalerna gjorde sitt yttersta för att sprida mod bland trupperna. Alla de högsta befälen med Eisenhower och framförallt Montgomery i spetsen, reste runt bland förbanden och höll tal till de närvarande. Monty brukade beordra alla uppställda att samlas i ringar runt hans jeep där han stående på huven höll tal så att alla hörde honom. Det spreds en känsla av att om till och med Montgomery var positiv skulle detta äventyr nog gå bra.
I maj flyttade Eisenhower sitt framskjutna högkvarter från London till Portsmouth och Montgomery gjorde likaså med sin framskjutna stab för den 21 armégruppen. I hela södra England hade alla privata transporter sedan en tid förbjudits och vägarna var fulla av militära transporter som aldrig verkade ta slut. Att det fanns en ordning i detta totala kaos var svårt att greppa.
Amerikanska trupper anländer 1942:
Instruktionsfilm om hur britterna lever:
En idag närmast parodisk presentation om färgade soldater (1944):